The Ministry of Commerce updated the list of medical material manufacturing enterprises that have obtained certification or registration of foreign standards, and Ningbo Evolution Fire Safety Equipment Co.,Ltd. is listed on the white list of non-medical mask manufacturing enterprises.Image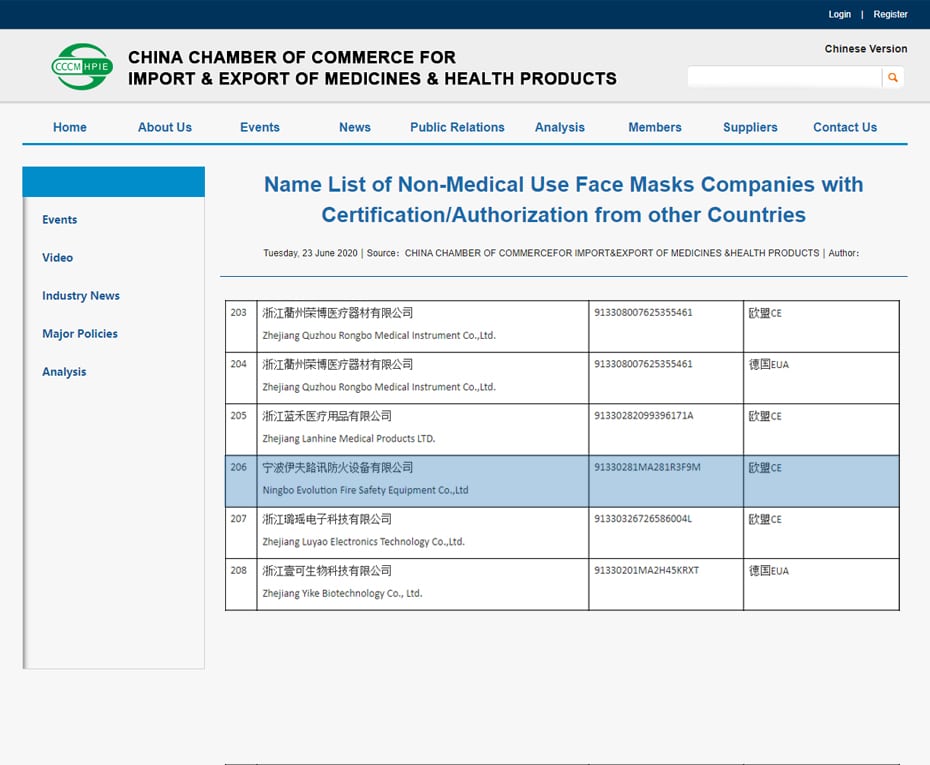 To further regulate the export order of medical materials, the Ministry of Commerce, the General Administration of Customs, and the State Administration of Market Supervision and Administration issued the "Announcement on Further Strengthening the Supervision of the Quality of Exports of Anti-epidemic Materials" on April 25. The announcement requires that from April 26th, the export of non-medical masks and some medical materials will be implemented by the Ministry of Commerce White List Management, which will be dynamically updated on the website of China Chamber of Commerce for Import and Export of Medicines and Health Products. For details, please check here. This move signifies that our company has obtained the approval of the Ministry of Commerce for both CE certification of medical and non-medical masks.
Ningbo Evolution Fire Safety Equipment Co.,Ltd. increased the mask productivity in the early stage of the epidemic to ensure the supply of epidemic prevention materials during the anti-epidemic period. Among them, the daily average production capacity of FFP2/KN95 masks reached more than 1.5 million, and the daily production capacity of disposable civilian masks reached more than 2 million. It has initially established an industrial chain that includes masks, gloves, protective clothing, goggles, protective masks, infrared thermometer, disinfectant hand sanitizers, and other products, and has become an important domestic supplier and manufacturer of protective product chains.